Orson Welles is generally regarded as one the greatest monolithic figures in cinema. From the sheer cinematic brilliance of
Citizen Kane
and
The Magnificent Ambersons
, his performances in
Kane
,
The Third Man
, and one of my favorites
A Touch of Evil
.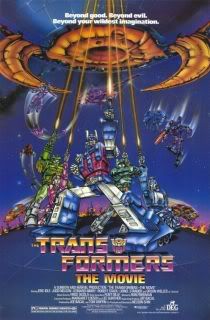 He was even Unicron in the 1984
Transformers: The Movie
, at a time when he himself had grown especially planet-sized.
He's the inspiration for a White Stripes song.
However, Welles (perhaps in no small part for deciding to seemingly target media magnate and all around captain of industry William Randolph Hearst for his masterpiece
Citizen Kane
, or his general bristly personality and enormous ego,) ended up slowly sliding into less and less prestigious work, symbolically culminating in his voice-over work.
Which, you may or may not be aware, was routinely lambasted by voice actor and Welles impersonator Maurice LaMarche on some of the shows he frequented in the 90s.
Whenever I'm feeling down, I like to listen to these outtakes and get a good laugh in.
And, although Welles' career foundered after an initial burst of brilliance, he is widely remembered despite that for those particular works than his latter decline. Either way, kind of uplifting.
YES!