My feelings on Juno are
well
documented
. Very much so. And my complaints, I feel, still stand.
Juno
is extremely lacking in individual characterization. Although I have no problem with stylized dialogue (c.f. Billy Wilder, or Quentin Tarentino,)
Juno
suffers from having characters with
extremely
idiosyncratic diction and a very particular rhythm performing in such a way that is frustratingly similar by multiple actors.
Jennifer's Body
is Diablo Cody's follow-up to
Juno
, a pseudo-horror film-cum-comedy about a succubus (played by Megan Fox) who feasts on the boys in a small town in Michigan.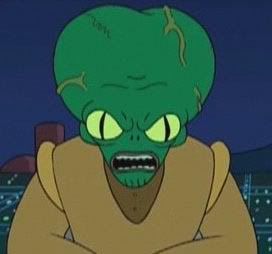 DO I GET TO YELL AT THE HEAVILY TATTOOED FORMER SEX WORKER WHO APPEARS TO HAVE WON AN OSCAR THROUGH DUMB LUCK?!
No, my favorite irate space monster and movie review device. I actually liked
Jennifer's Body
. It's actually one of the first American horror movies I've liked in a long time.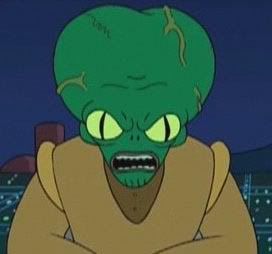 YOU HAVE BETRAYED YOUR IDEALS, PUNY HUMAN! MORBO WILL DESTROY YOU!
Allow me to clarify:
Jennifer's Body
has its pro's and it has it's cons. First the pro's:
#1) Genre awareness
I like a movie that knows what came before it, and
Jennifer's Body
knows it's stuff. It comes off as a sort of post-Feminist exploration of the possession/body horror/rape-revenge subgenres of thrillers with heavy dashes of Sapphic homoeroticism thrown in for good measure. It's probably not for everyone (this blogger at
Fangoria
didn't seem to get it,) but I like the attempts to play with these tropes in a new light. The comedy elements fell flat for me, and most of the times I laughed were usually more "laughing at" the movie than "laughing with" it.
#2) Story Structure
When I was trying to think of nice things to say about Diablo Cody as a writer, I came up with this: she has an impeccable sense of story structure and how to go through the beats of a story. She's very good at dedicating the amount of time she needs to for information and to build suspense and tension and to release it, with some interesting twists along the way. As a storyteller, I can respect her knack for this.
#3) Women Filmmakers!
I am a big proponent of seeing women and people of color in production positions in film and TV, and
Jennifer's Body
is written and directed and edited by women filmmakers. So, that's a plus in my book.
#4) Characterization improvement
The Juno-speak (or more accurately it seems based on interviews I've seen with Diablo Cody, Cody-speak) is limited here. Jennifer is the one character who spews bizarre nonsensical catch-phrase-y desperate attempts at wit as though she's getting paid per attempt, although one peripheral Asian girl character also comes close. Although a few other characters throw out little bits of this every now and again, thankfully it's few and far between.
But it ties into my first con…
#1) Limited Characterization
When people aren't speaking some variant Juno-speak, they tend to be incredibly flat lines. This isn't as bad as many of the actors are able to add some nuance to what might otherwise be a rather uninteresting character (J.K. Simmons immediately comes to mind in his role as the one-handed teacher.) And I must reiterate that I'm happy that not everyone talks like they're these incredibly verbose and speaking their own unique little vernacular, but at the same time, I felt those other characters could have used some subtle tweaks here and there.
#2) The Ending
Without spoiling anything, the movie's ending is completely unnecessary and unsatisfying. I would have been just as fine with it ending about five-ish minutes early.
An 11 Word Movie Review is in the pipeline for this. Needless to say, it will score higher than
Juno
, but not by much. It was fun, a good potentially-cult movie, and possibly worth seeing, although I give it a lukewarm recommendation at best.