I write the 11 Word Movie Reviews blog; speaks for itself.
With 100 posts written daily since I first started, I wanted to cap off this event with my 11 favorite reviews I've done so far. A lot of them are historic firsts, at least in terms of that blog.
11. September 1st, 2008
To Wong Foo, Thanks for Everything! Julie Newmar (Kidron, 1995)
This one speaks for itself. I don't know why I decided to use this cult drag movie as my first review, other than the self-contained fact of John Leguizamo's ability to work it. I immediately followed with reviews of Gremlins 2 (one of my favorite movies) and Disturbia (closer to the "least favorite" end of the spectrum.)
10. September 14th, 2008
Norbit (Robbins, 2007)
I saw Norbit for a dollar and still wanted my money back. This is my first "Alternate" review.
9.September 5th and September 6th, 2008
Flintstones (Levant,1994)
and
The Flintstones in Viva Rock Vegas! (Levant, 2000)
My first multi-part review, referencing a previous review.
8.October 7th, 2008
Batman (Burton, 1988)
Arguably the review I've had the hardest time with getting in 11 words, but I am very pleased with the results.
7.October 28th, 2008
Air Force One (Petersen 1997)
My first link to a youtube video in a post. And it's true. He wants you off his plane.
6.November 16th, 2008
The Pacifier (Shankman, 2005)
If only for the
Suburban Commando
reference.
5.October 13th, 2008
Star Wars: Episode I: The Phantom Menace (Lucas, 1999)
My first link to a Son of Double Feature article, my
Bizarro-review of Episode I
.
4. November 15th, 2008
Willow (Howard, 1988)
Mixes both alternative reviews, a variation of Morbo, and also, an awesome movie.
3.October 5th, 2008
Austin Powers in Goldmember (Roach 2002)
Take that, John Travolta.
2.September 27th, 2008
Juno (Reitman, 2007)
My feelings for Juno are well documented.
But also the first appearance of my favorite reoccurring device: the frame of Morbo of Futurama, yelling whatever I can't. Thanks Morbo, for screaming when I can't.
1.December 8th, 2008
Planet of the Apes (Schafnerr, 1968)
My 100th post in the blog, and, actually, my favorite. Are the best yet to come, or have I jumped the proverbial shark?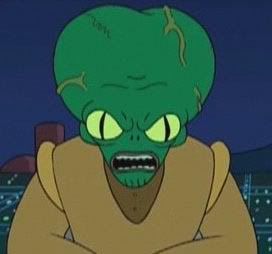 YOU ARE DOING FINE, DEREK!
Thank you Morbo.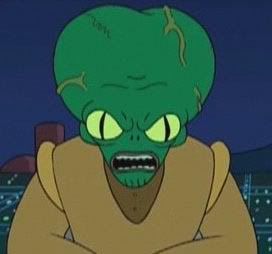 I WILL DESTROY YOU!
Morbo means he loves you.
I love you too, Morbo.